'Junior Mithali': This'cute' girl dressed as the Indian skipper.
when u have to participate in fancy dress but don't know how to proceed further....u needn't thing for some costume which has a legendary feel, u can also think and wear a dress which made u inspire and that's what this little girl did.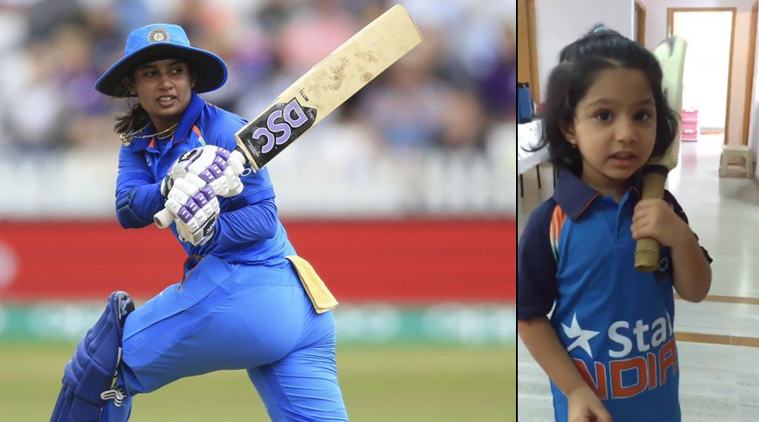 With Independence Day around the corner, India is gearing up to celebrate 70 years of the historic day. In the week leading up to the D-Day, schools and colleges across the country organise plays, drawing competitions, fancy dress events around the patriotic theme. It is a simple way to imbibing our younger generation about India's struggle for freedom.
At one such school event, where kids were asked to dress up as any national leader, a little girl's costume is melting hearts on the Internet. The little one chose to be Mithali Raj for the event, complementing her Indian jersey by holding a bat. Her father, Apoorva Ekbote, shared the small clip of the kid on Twitter with a message saying how inspiring the Indian Captain has been. "Dress up as any national leader for school event. Our very own Captain of Indian cricket team @M_Raj03 to inspire my daughter.. #MithaliRaj," he wrote. Last year, around the same time, a little girl had dressed up as Sushma Swaraj as a national leader for a school competition and the External Affairs Minister too loved her look.
India's love for cricket is not new, but the zeal and the enthusiasm surrounding the female players is surely refreshing. Even after their heartbreaking loss at the ICC World Cup Final, the fan roared saying 'they have lost the cup but won million hearts', and this clip beautifully resonates that sentiment. And Raj has won hearts not just through her game but also for her other qualities, remember her photo of reading a book before going on filed that went viral?
Subscribe to our mailing list